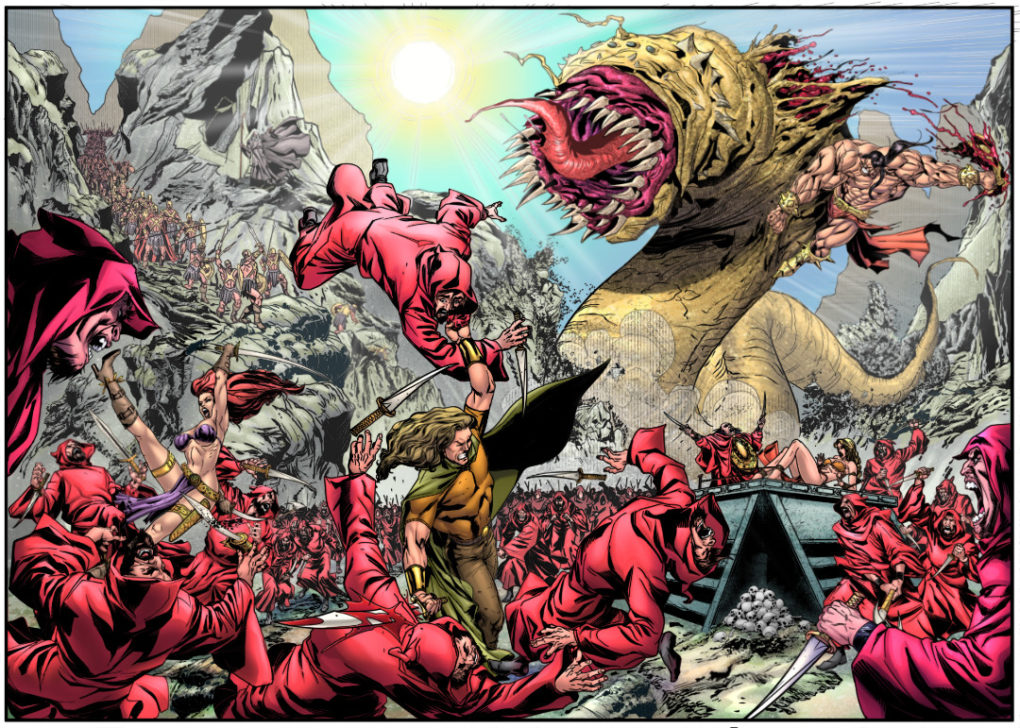 Yeah, you read it right, it's time for your annual Rage News! Here is where I cut and paste last year's news, and update it a little because almost nothing happened in one year! OK, just kidding. Almost. I might have cut and pasted parts of this first paragraph, though.
So, as always, let's see what's happening on the Rage Front!
Alex Nascimento has penciled and inked the first pages of Rage #7. Yes, I'm really talking about Rage #7. Issue #6′ BW pages are now completely finished. The colors are next, and depend mostly on Dijjo Lima's planning (and on the fact that I can only pay for a few pages a month, like always). Dijjo is hard at work on Marvel's Voices: Comunidades #1, right now, but he's still finding time to work on Rage #6's color pages! So far, the cover is done, as well as the first three pages. We're still slow, but we're getting there!
Worlds of Rage #9 is still in the making. Only four Serena pages left from Stéphane Degardin, and some five pages from new Arcana penciler Walmir Archanjo from 137 Studio! I hope to finish this issue by the end of the year, but you can never be sure.
All this gave me more time to work on the new editions of all the previous issues! Rage Bane of Demons and Rage Bane of Demons Director's Cut are the first of these 2021 Editions! The first five issues of the Rage Series are next, as well as the two issues of Rage Compilation. The new edition of Rage Compilation #1 (which contains Rage #1 and #2, available in print at Amazon) should be available by the end of the month, with a brand new cover by Carlos Paul (see the image above!), and the new editions of Rage Compilation #2 and Arcana #1 shouldn't be long to follow.
There's also an Interactive Adventure Book in the making. Titled The Second Night, the book is set to feature all the Rage characters introduced so far, and a lot more! The story will take place right after Rage #6, and you'll understand when you read it why it could only be written as an Interactive Adventure Book. My first idea was to make it an RPG, but I thought about all my readers who don't quite like playing RPGs, and will need to know what happens in between Rage #6 and #7. Making it first an IAB, and then adapting the story into an RPG was the best solution. I'll tell you more about it after Rage #6 is out.
And guess what? I'm working on yet another book, which might be out even sooner than The Second Night. The story is set in the Rage Universe too, and as The Second Night, the book's release date will depend on the release of a particular issue of one of my series: this time it's set to be released at the same time as Worlds of Rage #11, so I would say it will definitely be out next year, probably before The Second Night. More about this when the time comes.
See you on Christmas!
Eric