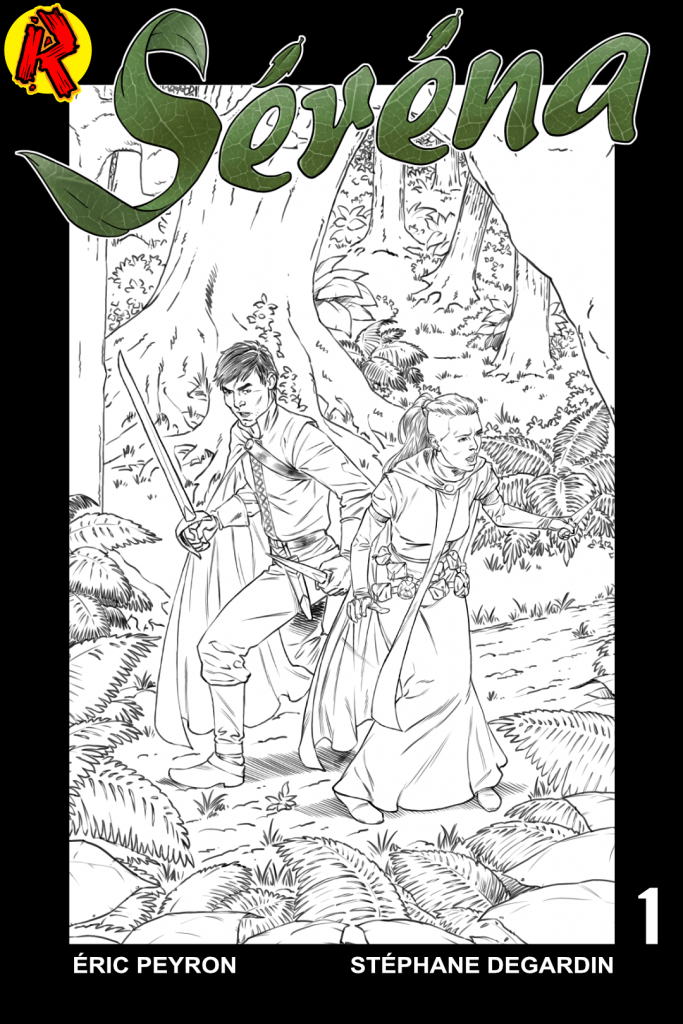 Written by Eric Peyron, with Art & Cover by Stéphane Degardin, Serena is another spin-off from the Rage Series, compiling the first chapters prepublished in Worlds of Rage.
Serena is a young priestess of Axliom, God of Nature and Plants sent on a secret mission by her temple. Travelling the Arthkanian forest surrounding the village of Trall, Serena is going to face more than her fair share of dangers.
But is this really the whole story? Who is she really, what is her mission, and why is it that there are so many priestesses of Axliom wandering the region under the name Serena anyway?!
Discover new kind of heroes in this new series written by Eric Peyron, and drawn by Stéphane Degardin.
Like Arcana, this series has an interesting backstory: A few years ago, I had to take drawing classes at L'Atelier Parrallèle of Julien Parra, so that I could do better quality signings at conventions (I'm only the writer of the stories, but I need my signed books to look good). As Julien had also created the fanzine Ganache, he asked me if I could create two Rage stories for Issue #3, and I said OK, as long as the rights on the script are mine, since the stories would happen in the shared Rage Universe. I wasn't too keen of writing two little Rage stories, so I wrote a tale happening in the Rage Universe, which would cross over with Issue #2 of the Rage Series. These first two chapters of Serena have been drawn by students from L'Atelier Parrallèle, and are now part of Ganache #3 (in French only). As it often happens, I continued the story in my head, and it gave me so many ideas that I had to make it a new series! So I sent the script of these first two chapters to Stéphane Degardin, and we then started working on the series.
But I didn't want it to be just a Rage spinoff. I needed a whole Serena Universe. I needed to give an identity to the series, especially since the story I had in mind was all about Identity. I already had the theme in mind, even though it doesn't quite show in the first two chapters: you remember these old stories about spies on a train with fake identities, with only one of them carrying the right roll of microfilm, and all the others being decoys? Well it's this kind of story. But this time, the heroes are the decoys, they're not even aware of it, and they're definitely not made for this.
In that same frame of mind, I created a whole bible to present to you all the decoys, and as I needed to give the book its own identity too, it's all written First Person by one of the decoys (Sister Olivia. You're going to love her). And it has a theme too: You remember these scenes in current TV series in which a young mother gets mugged, and she begins to tell her name to her attacker? And the name of her husband. And the names of all her children. And of her dog too. And of her hamster, while she's at it. At some point, it's like everyone's going to sit down, and she'll show you her whole family album. "And here, we were in our ski chalet in Idaho, and granny was still with us. And here, we were on trip to Florida" etc. I believe it's some kind of trick from some kind of psys to generate empathy, or something…
Well, I wrote the bible along these lines. I wanted you to know all of the decoys first, and maybe feel something for the characters, even though at the beginning of the story, a few of them are already dead. Especially since a few of them are already dead. Which means you get the whole family album.
So there's this book too. It's called The Temple of Pearls, it's set to be released in 2023 along with the very first printed compilation of Serena, and it's by far the strangest and funniest book I've ever written, so don't miss it!
This issue will be sent to select digital publishers. Each publisher will be added to this page as soon as the book is available in their store.