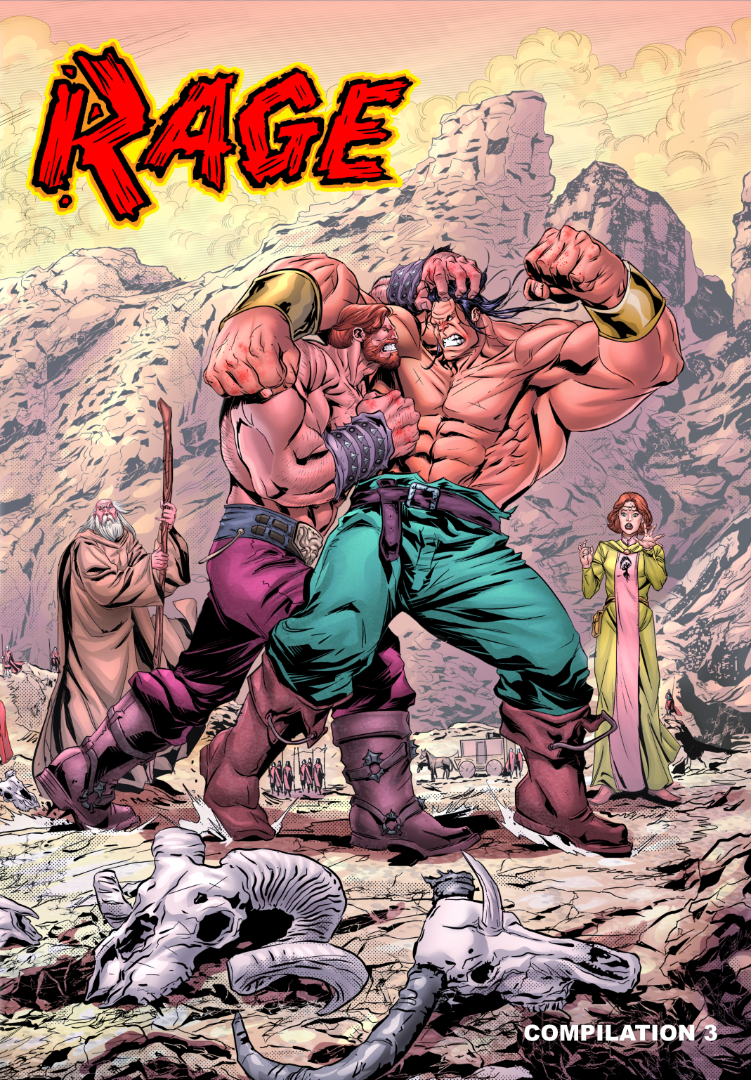 Rage; The legendary Bane of Demons – along with High Mage Nicodemus, Princess Ariane, and Tuk have all been sent on a new quest by Kothas, King of Arthkan.
Having learned that Tuk is in possession of a powerful lucky charm that was once his – the Bracelet of Chance – and magically unable to take it by force, the sorcerer Erasmus has sicced a pack of werewolves on Rage and his companions believing Tuk would be able to survive their onslaught by sheer luck. Erasmus thought he would then have a better chance of persuading Tuk to give him the Bracelet.
But everything went wrong. Nicodemus, Ariane, Tuk, and even Erasmus have been bitten, and are now beginning to change into werewolves.
And in the second part, the First Night is over, a new day begins, and after their epic fight against Erasmus' pack of werewolves, our unlikely heroes are back on track, with no horses, and ragtags for clothes. And, would you believe it? Luck is with them again, as they are going to encounter a party of new characters on the road. Introducing Basilius and Celsius from the Council of Magicians, Sabara from the continent of Kusha, Serena, priestess of Axliom, and Herkless, Demi-God of Power!
The third issue of the Rage Compilation Series contains Rage #5 and Rage #6! This compilation series is available exclusively in print at Amazon, and digitally on Kindle. Since it's an Amazon exclusive, every Rage Compilation issue is also on KDP Select, so that Kindle subscribers could read it for free.
The good news is that you have a new Rage cover by Dynamite's Carlos Paul, and that it is the only Rage book available to Kindle subscribers. And if you don't own Rage #3 and Rage #4 yet, it will be cheaper to buy this compilation on Kindle!
Here are all the publishers of this issue in alphabetical order! Just hover on each icons to display their names, and click to display the corresponding Page!