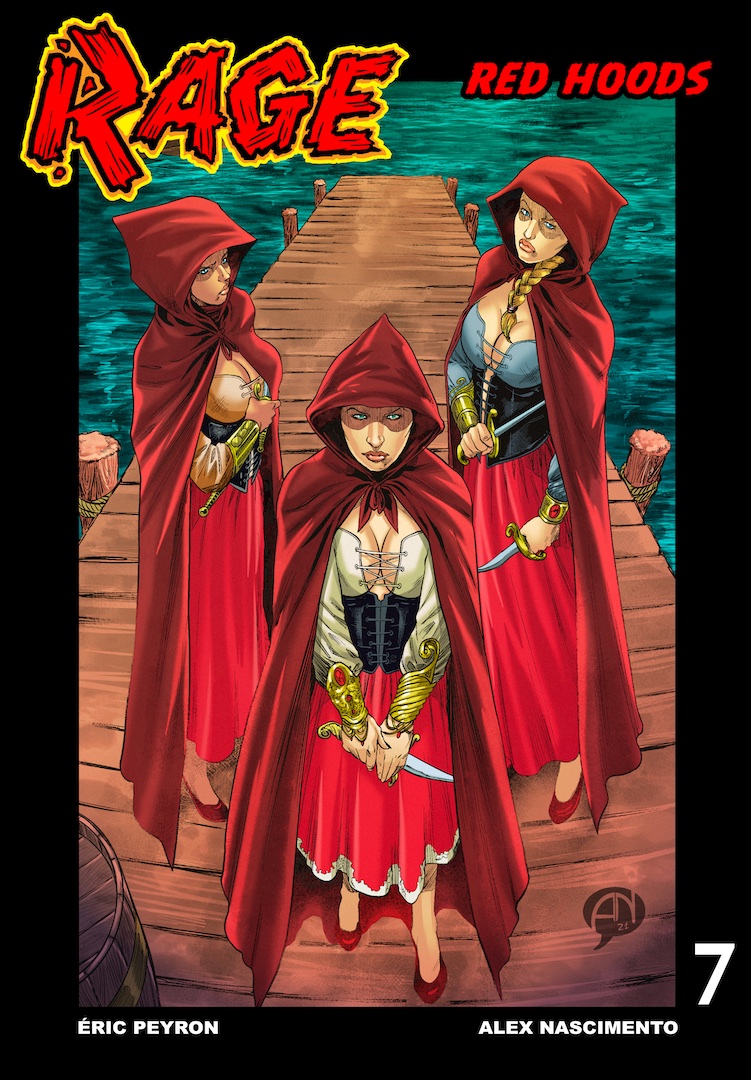 And here comes the 7th issue of Rage, by Eric Peyron & Alex Nascimento!
You met the Werewolf Virus in Rage #2 to #5! You saw how bad it can get in The Second Night–Wait! did I write The Second Night already?! Ah huh no, so maybe you didn't see how bad it can get yet. But you will. Anyway. Now, meet the cure!
The Red Hoods are the werewolves huntresses of the Rage Universe, and three of them have set their sights on Nicodemus, Ariane and Tuk! Why?! That's what you're going to discover in Rage #7!
Rage; The legendary Bane of Demons – along with High Mage Nicodemus, Princess Ariane, and Tuk have all been sent on a new quest by Kothas, King of Arthkan.
Their next stop is the harbor city of Pyren where they're going to try to look for a boat. But first, they have to rest a little, so after chaining Rage in a local jail, Nicodemus and Ariane are trying to find an inn, while Tuk is flirting around in a pub. Following them are three members of the Red Hoods, the most famous Werewolves Hunters in all of Arthkan. What are they doing in Pyren, and why have they set their sight on Nicodemus, Ariane and Tuk? Our unlikely heroes are going to find out. The hard way.
This issue will be available only in digital form. It will be compiled with Issue #8 into a printed book as soon as it is finalized. If you prefer print over digital, go to the Rage Compilation section.